Are there fingerprints on your tv?  How about smudges or dust on your computer screen?  Do you know how to clean your tv and computer screen?  We are here to help with some tips.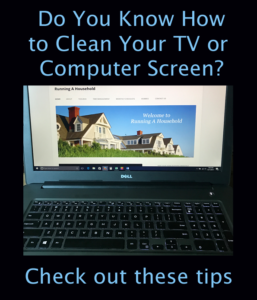 Disclaimer: Some of the links below are referral links, which means that if you make a purchase, there is no extra cost to you, but Running A Household will receive a commission.
How to Clean Your Tv and Computer Screen
Recently, I came across a package of Pledge Multi Surface Wipes
by SC Johnson.
According to the manufacturer, they are for "Use on wood, granite, stainless steel and electronics without the fear of damage. Pledge® Multi Surface Everyday Wipes also remove dust and up to 90% of allergens in dust."
Honestly, I was in a hurry one day.  I needed to clean the window in my living room, so I grabbed a package of the Multi-Surface wipes.  They did such a terrific job on my windows.  I took a closer look at the package only to find that I could use them on my electronics. 
First, I cleaned my laptop screen.  It looked amazing.  I moved on to my television screen, which I've been afraid to clean.  It did a fantastic job.  Last, I cleaned my son's Ipad.  The wipes were so easy to use, and left all of the screens clean and streak-free.  Best of all, they came in a resealable package. 
The manufacturer does recommend cleaning your electronics as directed by the electronics manufacturer.  In addition, the instructions say to unplug electrical appliances before cleaning.
This product is also safe to use on laminate, glass, marble, plastic, porcelain and stainless steel.  Although the fine print states that they are not for use on unsealed wood, marble or granite.  As always, be sure to read the instructions yourself to determine if they are appropriate for you to use.  Check them out on-line:
Pledge Multi Surface Wipes
Note: Pledge Multi Surface Everyday Cleaner
is also available in an aerosol can.  When using on electronic products, the manufacturer recommends spraying the product directly onto a cloth, then dusting as usual.
What a great find!  Happy cleaning! 🙂
Here are some additional articles on our website you may enjoy:
Keeping Your Home Clean and Clutter-Free
Household Chores – Weekly Checklist
Bi-weekly and Monthly Chores Checklist
Grocery Shopping List by Department
Want to keep your home running smoothly?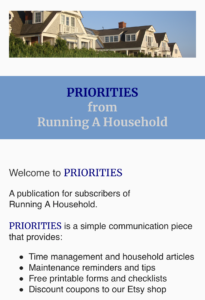 Sign up to receive PRIORITIES, our free weekly publication with:
time management articles
maintenance reminders and tips
free printable forms and checklists
discount coupons
To sign up to receive PRIORITIES, please Click here