There are so many things to do when running a household.  In order to keep track of everything, there are several checklists to use, and we're here to help.
Household Chores – Daily and Weekly Checklist
One of the most important lists to establish is your Household Chores Weekly Checklist.  We have a few examples, or you can feel free to create your own.
The first example is our favorite.  This pre-filled Household Chores Weekly Checklist lists all of the daily and weekly chores on one horizontal page.  We also left some space for you to add your own chores.   Just print, and start using.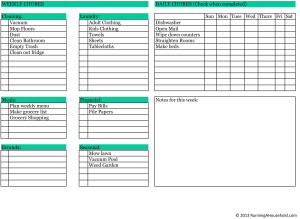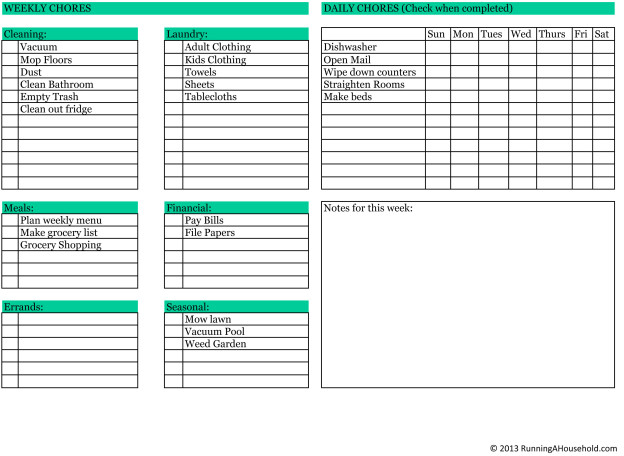 Household Chores – Weekly Checklist (Pre-Filled)
There's also a blank version of the Household Chores Weekly Checklist.  Feel free to print it and personalize it for yourself.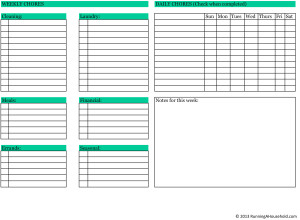 Household Chores – Weekly Checklist (Blank)
Household Chores – Weekly Checklist by Day
Another option for tracking your weekly household chores is by day.  This Weekly Checklist breaks down your household chores for each day of the week.  There's a column to list your everyday chores, and a separate column to write down the chores you do each week.  Below is a sample checklist for you to print: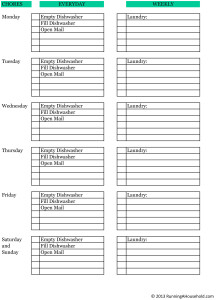 Household Chores – Weekly Checklist
We have also included a completely blank Weekly Checklist by Day.  You can print and fill in your daily and weekly chores.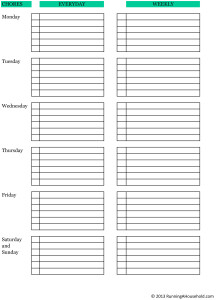 Household Chores – Weekly Checklist by Day (Blank)
Here is an overview of how to set up your Household Chores – Weekly Checklist:
Column 1:     Day and Date
Column 2:     Things to do on a daily basis
Column 3:     Things to do on a weekly basis
Daily chores:  There are various tasks we do on a daily basis.  Some things are automatic, and always get done.  (i.e. Make breakfast, feed the dogs, take a shower) These things are pretty basic, right?  So they don't make it on the list.
The key is to select the items that need to get done, but might slip through the cracks if they aren't on the list.  For my daily list, I selected items that were easy to procrastinate:
Fill dishwasher; Empty Dishwasher

: Since I started using this list, I've been able to keep the dishes under control.  For some reason, putting a checkmark on the list is very motivating.

Open the mail

: This one seems easy, but it isn't.  How many people have an overflowing mail bin?  (You know who you are.) That was me.  It was easy to go out and get the mail.  Maybe look at the important pieces, and put the junk mail in my pretty mail basket.  I vowed to empty the mail basket at the end of the week, but somehow, that didn't always happen.  Now that I have this item on my list, I found I don't even need a mail basket.  I open the mail when it comes in, and put the papers in the right spots.  If you need help in this area, read our article:

Tips for staying on top of your mail
Weekly chores: As for the weekly items, I chose items that I do on the same day of every week.  For example, I put out the trash every Monday, and bring in the trash cans every Tuesday.  I also opt to do a load of laundry each weekday.  One for: adults, kids, towels, sheets, and tablecloths.
Here are a few items you may want to include on your Household Chores – Weekly Checklist:
Weekly cleaning chores

: vacuum, mop kitchen, dust, clean bathroom, empty trash cans, straighten rooms

Weekly meal planning

: Weekly menu, grocery list, grocery shopping

Weekly Financial Tasks

: Pay bills, update budget, file papers, shopping /errands to run
Next Steps
Assignment:
Select and Print a "Household Chores – Weekly Checklist"
Personalize it for yourself, or print and use the pre-filled checklist.
Give our checklist a try for one full week, and see how it works.   Happy Planning!
Want to keep your home running smoothly?
Be sure to enter your email address (on the right side of our home page) to receive our free Monthly Household Checklists and tips for Running a Household.