Part of running a household involves doing chores on a bi-weekly or monthly basis.  These types of chores are based on usage and preference, and should be customized for your household.  We've provided the following checklists for you to use: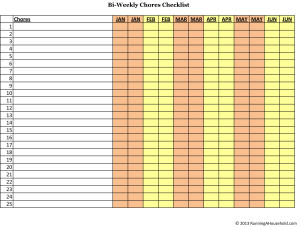 Household Chores – Bi-Weekly Checklist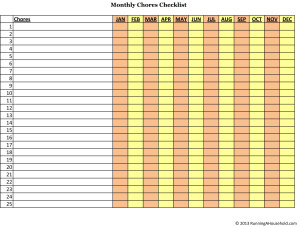 Household Chores – Monthly Checklist
Assignment:  Use the "Bi-weekly Checklist" and "Monthly Checklist" to list items that you do every other week, or once a month.
Here are a few examples:
Glass Sliding Doors – Cleaning the doors can be done every other week.  However, if this is a high traffic area, you may want to clean them more often.  If they are not used much at all, or don't seem to need cleaning, consider cleaning them monthly.
Bathroom Tubs – Cleaning the bathroom tub every other week seems reasonable.  If you use a shower spray after each use, then you might consider cleaning the tub monthly.
Change DE on pool filter – This is a typically a monthly activity.  For those in cold weather states, it is also a seasonal item. Once you have the checklists completed, be sure to schedule time to complete each chore.
Consider tackling one each day to stay on track.
Happy cleaning!
You may also find the following articles from our site helpful:
Household Chores – Weekly Checklist
Keeping Your Home Clean and Clutter-Free
Want to keep your home running smoothly?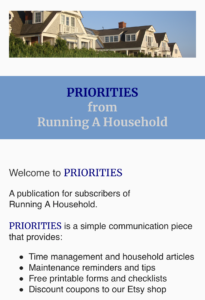 Sign up to receive PRIORITIES, our free weekly publication with:
time management articles
maintenance reminders and tips
free printable forms and checklists
discount coupons
To sign up to receive PRIORITIES, please Click here