It's time to start your Spring Cleaning.  We've put together some ideas and tips for tackling this job.  To help you track your progress, you'll find various large print Spring Cleaning Checklists below:
Spring Cleaning Checklist – Bathroom
Spring Cleaning Checklist – Bedroom
Spring Cleaning Checklist – Dining Room
Spring Cleaning Checklist – Family Room
Spring Cleaning Checklist – Kitchen
Spring Cleaning Checklist – Outdoors
Select Your Style of Spring Cleaning
The lists are arranged room by room.  So, you can take two hours and clean the bedroom.
Task by task: You make want to handle a task all in one day.  For example, instead of vacuuming and shampooing the rugs in each room on separate days, you may want to vacuum and shampoo the rugs all on one day.
Helpful Spring Cleaning Tips
Be sure to schedule time to handle spring cleaning.  Maybe you can set aside two hours every day at the same time.  For example: 10-12 every morning.  Or, maybe you prefer every Saturday morning, from 9-12.  Whatever you decide, you'll find that it will get done if you put it on the schedule.
If you're planning to power-wash the house, do this before your clean your windows.
Listen to music while you work.  It helps keep you motivated and moving faster.
Open the windows while you clean.  Bringing in fresh air makes the room feel fresh and clean.
Additional Ideas for Spring Cleaning
Could you use a few more ideas on spring cleaning?  Be sure to check out these tips:
Is your house a mess? Not sure where to start?
Easy Way to Clean Plastic Patio Furniture
Tips for Cleaning your Refrigerator
Household Chores – Weekly Checklist
Happy Spring Cleaning!  🙂
Want to keep your home running smoothly?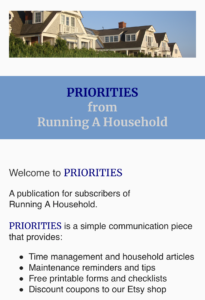 Sign up to receive PRIORITIES, our free weekly publication with:
time management articles
maintenance reminders and tips
free printable forms and checklists
discount coupons
To sign up to receive PRIORITIES, please Click here