Do you take care of your own lawn? If so, do you know when it's time to put down your Step 2 Fertilizer? We've outlined some details and tips for you to read.
Disclaimer: Some of the links below are referral links, which means that if you make a purchase, there is no extra cost, but Running A Household will receive a commission.
Benefits of Step 2 Fertilizer

Step 2 fertilizer is part of a 4 step fertilizing program that homeowners can do on their own. Step 2 offers a weed killer plus fertilizer for your grass.
When to Put Down Step 2 Fertilizer
According to the manufacturer, you can apply Step 2 in late spring, April – June. Be sure to wait at least 30 days since you applied your Step 1 fertilizer. In New England, we typically apply Step 2 around Memorial Day.
Your grass should be wet, or at least damp from the morning dew. If not, you'll want to wet your lawn and then apply the fertilizer. Step 2 needs to stick to your broadleaf weeds, like dandelions.
What if I put step 2 fertilizer down on dry grass?
If you put your step 2 fertilizer down on when the grass was dry, then you may not kill the broadleaf weeds, like dandelions or clover. However, the fertilizer will still work, and your grass will receive nutrients to stay green and thick.
Make sure no wind or rain is in the forecast . Step 2 needs time to work on those weeds, so do not water your lawn for 24 hours.
Lastly, keep an eye on the temperature. It should be between 60 and 90 degrees.
For more details, you can see: SCOTTS Step 2 Weed/Feed
How to put down step 2 fertilizer
We found the Scotts broadcast spreader easy to use for this project. Just set the spreader to the settings listed on the bag of fertilizer.
Scotts Turf Builder EdgeGuard Mini Broadcast Spreader
Can you use step 2 fertilizer for new lawns?
Don't use this product if you just seeded your lawn. You'll need to mow new grass at least 4 times before it's safe to use this fertilizer. Instead, use a fertilizer like this one, designed for new lawns: Scotts Turf Builder Lawn Food – Starter Food for New Grass Plus Weed Preventer
Can you plant grass seed after applying step 2 fertilizer?
According to the manufacturer, if you already applied step 2 fertilizer, wait 4 weeks before planting grass seed.
Resources
This product was meant to be used on general grass. There are certain types of grass that this fertilizer should not be used on.
For more details, please see: SCOTTS Step 2 Weed/Feed
You may also want to read the full label of the bag:

Scotts Step 2 Instructions on Bag
Mark your calendars. We typically put down Step 3 fertilizer around July 4th.
Want to keep your home running smoothly?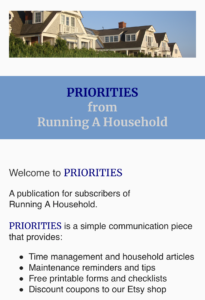 Sign up to receive PRIORITIES, our free weekly publication with:
time management articles
maintenance reminders and tips
free printable forms and checklists
discount coupons
To sign up to receive PRIORITIES, please Click here
Be sure to read these additional articles on our website:
Silver Maple Trees: It's a Love-Hate Relationship
It's Time to Put Down Your Step 1 Fertilizer