Do you have excess water on your pool cover?  We've put together some tips on how to drain water from a pool cover.
Draining Water from a Pool Cover with a Pool Pump
The first option for draining water off of your pool cover is to use a pool pump (sump pump) and a garden hose.
Disclaimer: Some of the links below are referral links, which means that if you make a purchase, there is no extra cost, but Running A Household will receive a commission.
Step 1: Connect garden hose to pool pump.
Tip: Confirm that the hose is attached.  If not, the hose could pop off underwater and slow or stop the draining process.
We love the Little Giant Pump
.  It seems to have enough horsepower to get the job done.
We've tried other pumps, but this one seems the quickest, and has lasted for years.
This pumps gets a lot of use.  During the swimming season, it comes in handy
to drain the excess pool water after a heavy rain.
Step 2: Determine where you want the pool cover water to drain.  Stretch out your garden hose so that the water can drain freely from the end of the hose that is not attached to the pool pump.
Step 3: Drop the pool pump into the water on top of your pool cover.
Tip: Our local pool company suggests placing the pool pump on top of a garbage can lid.  Most pool covers are made of a mesh material.  Therefore, it is possible to actually drain the water from underneath your cover, unless you put the pump on a lid.
Step 4: Plug pool pump into grounded outlet.
Tip: Find an electrician and have an outdoor grounded outlet installed in a central location.  Most have GFI outlets, so that the outlet will trip of any moisture is detected.  Plus, using extension cords can increase the risk for a fire. 
Step 5: Confirm that the pool water is draining.
Tip #1: This part seems basic, but it is especially very important.  If there is a kink in your garden hose, and the water is not draining, or draining slowly, you can burn out your pump.
Tip #2: Did you leave your garden hose outside for the winter?  If you are doing this project on a warm day in the winter, or very early in the spring, it is possible to have ice build-up within your garden hose.  Again, this would prevent the water from moving freely through your hose, and can burn out your pool pump.
For more details about the pool pump, click here:
Little Giant 505005 5-MSP 1/6 HP Submersible Utility Pump, 1200GPH
Removing Water from a Pool Cover with a Garden Hose
If you have an above ground pool, it is possible to remove the water with just a garden hose.  Here's the trick:
Connect your hose to the faucet.
Place the other end of the hose on top of the pool cover.  Make sure it is underwater, and placed in such a way that it will stay under water.
Turn on the water and let it run for a minute.
Turn off the water and quickly disconnect the hose from the faucet.  The water from your pool cover will now start to drain.
We prefer to use non-kink hoses like this one:
Advantages:
You don't need to invest in a pool pump, which can range in price from $50-150.
It's simple and quick.
Disadvantages
The hose in the pool can move around, causing the draining process to stop.
You are limited to where you can drain your pool water.  Once you detach the hose from the faucet, it's tricky to move the hose.  Just plan ahead and know where you want the water to drain.
What is an elephant cover?
One other option for getting water off of your pool cover is to prevent the water from ever building up.  This can be solved with an elephant cover.
So what is an elephant cover?  Surely you've seen the ads.  The pool cover stretches over your in-ground pool and the water (and fall leaves) fall off to the side.  The cover is so strong that an elephant can stand on it.  They are also known as safety covers.
Advantages
Safety: If you have pets and/or small children, this is a great way to ensure that no one falls through your pool cover.
Low maintenance: Water and leaves cannot collect on top of the cover, so you can avoid the maintenance.
Disadvantages
Appearance: In order to install the cover, it is necessary to drill holes into the surface surrounding the pool.  This means drilling holes into the concrete.  We have pavers around our pool, and did not want to risk drilling into the pavers.  We were also concerned about having open holes when the cover is off.
Price: We just looked that the prices again, and they are steep.  The cost of a cover to fit a popular 16 x 36 in-ground pool is $700-1500.  We found one for $1200 with a 12-year warranty.  A standard mesh cover is $90-200, and can last from 3-10 years.  We found one for $199 that came with a 16-year warranty.
Here is a sample safety cover for a pool.  Click on the link to see various sizes, costs, benefits and features:
Blue Wave In Ground Pool Safety Cover
So as you can see, there are several options for removing water from a pool cover.  Happy swimming! 🙂
Do you need more pool tips?  You may find the following articles on our website helpful:
How to Remove Leaves from Pool Cover
Want to keep your home running smoothly?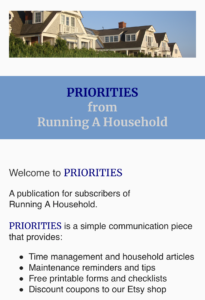 Sign up to receive PRIORITIES, our free weekly publication with:
time management articles
maintenance reminders and tips
free printable forms and checklists
discount coupons
To sign up to receive PRIORITIES, please Click here