Do you take care of your own lawn? If so, you need to know when it's time to put down your step 3 fertilizer.  We're here to help with some quick tips.
Disclaimer: Some of the links below are referral links, which means that if you make a purchase, there is no extra cost to you, but Running A Household will receive a commission.  Thank you for supporting our website.
What is Step 3 Fertilizer?
The third lawn care step of the year is simply fertilizer.  This will make your lawn greener.  In addition, it will thicken your lawn so that there is less room for weeds to grow.  One option is to use a simple Turf Builder like this one:
Do You Know When It's Time to Put Down Your Step 3 Fertilizer?
In New England, we typically apply Step 3 around the 4th of July.  With all of the heat, you might be a little behind on your fertilizing schedule.  According to the manufacturer, you can apply Step 3 in June, July or August.  Be sure to wait 4-6 weeks since you applied your Step 2 fertilizer.
How to Apply Step 3 Fertilizer (without iron)
You can apply Step 3 fertilizer, also known as Turf Builder
 to dry grass, or grass that is wet.  The job is easy when you use a simple Broadcast Spreader
. We found the Scotts broadcast spreader easy to use for this project.  Just set the spreader to the settings listed on the bag of fertilizer.
Scotts Turf Builder EdgeGuard Mini Broadcast Spreader
Or for smaller lawns, consider the Scotts Hand-Held Spreader 
which you can use to apply fertilizer, grass seed, granular products like Preen weed-and-feed, or even ice melt in the winter.

While it is not necessary to water in Step 3, we prefer to water it in. That way, pets and kids can return to the lawn sooner. It also makes the grass greener just a little bit faster.
Be sure to apply when the temperature is below 85 degrees, otherwise the fertilizer may burn your grass. The manufacturer indicates that if the temperature will be above 85 degrees, you can apply it to dry grass and water it in.
Does Your Fertilizer Contain Iron?
Some of the Step 3 fertilizers contain iron. This actually helps to keep the grass from burning during the hot summer months. Check the bag to confirm if your fertilizer contains iron.
Here's an example: Scotts Step 3 Lawn Food with 2-Percent Iron, 32-0-4
The manufacturer recommends applying fertilizer with iron to a wet lawn. They also suggest not watering the grass for 24 hours so that the iron can be absorbed through the blades of the grass. However, if the temperature is more than 90 degrees, you will need to water after applying the fertilizer.
Special Note:  According to the manufacturer, if your fertilizer contains iron, you will want to keep this fertilizer on the grass.  Sweep up any excess left on your driveway or sidewalk, otherwise, the iron may cause staining.  If you apply this fertilizer to a wet lawn as suggested, it may also stick to your shoes, so be careful not to track it onto surfaces which may stain from the iron.
Resources
For more details from the manufacturer, see: Scotts STEP 3 Lawn Food with 2% Iron
Additional articles you may enjoy on our website:
Three Lawn Care Tips to Follow
Silver Maple Trees: It's a Love-Hate Relationship
It's Time to Put Down Your Step 2 Fertilizer
It's Time to Put Down Your Step 4 Fertilizer
Want to keep your home running smoothly?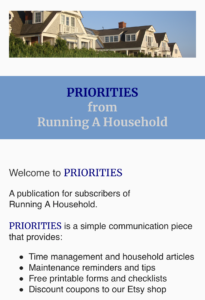 Sign up to receive PRIORITIES, our free weekly publication with:
time management articles
maintenance reminders and tips
free printable forms and checklists
discount coupons
To sign up to receive PRIORITIES, please Click here