Winter can be terrible for illnesses.  With a school-aged child, it seems like we contract something every other week: ear infections, pink-eye , the common cold, and of course, strep throat.
In January 2013 I read that a "Ferrari" type of stomach bug was making the rounds.  When I saw the story I chuckled.  That bug originated back in December, and I know this because I'm convinced it started at our house!  Yours truly was never sicker.  I was so weak and ill that we had to call in my mother-in-law to take care of the kids.
Anyway, after having the Ferrari of stomach bugs in December, I assumed that I was exempt from getting the stomach bug again.  Wrong.  It started again in March with the school-aged child who only had it for a day.  Then it spread to our two-year old.  Poor little one was sick for 5 days.  Of course, yours truly came down with it, too.  I cannot tell you how relieved I was to find all of the items I needed in our pantry.  We had everything from Gatorade to Saltines, Pedialyte and Pedialyte pops, and boxes of chicken noodle soup.
Is your pantry stocked?
Since the stomach bug can arrive at any time of year, make sure your household is ready.  Here's your assignment:
Create a "Stomach Bug" section in your pantry.  Stock it with items that will help you get through the rough times.
Bland, easy to digest foods:
Crackers (preferably Saltines) (1 box)
Chicken noodle soup (one box  per person)
White Rice
Applesauce (unsweetened)
Gelatin
Clear Liquids
Gatorade (2 for each adult in the house)
Pedialyte (1 container per child)
Pedialyte pops (put 1/2 box in freezer today; keep one full box in your pantry)
Ginger Ale (to settle stomach) (small cans, or 6 pack of bottles)
Household Supplies:
Disinfecting wipes
Toilet Paper (At least four rolls.)  This is not the time you want to run out. 🙂
Disposable cleaning gloves – for cleaning up after family members
A mask (if you plan to clean up and cannot handle the odor)
Hand soap
Does grape juice prevent the stomach flu?
When I told a friend of mine that our child came down with the stomach bug, she immediately told me to drink grape juice.  Apparently grape juice can prevent the stomach bug if you haven't already caught it.  I never heard of this, but did find that a few people posted their success stories online.  I was desperate not to come down with the stomach flu, so I tried it.  Guess what.  It worked!  I didn't get the stomach bug.  I was also careful to wash my hands often.  If you're going to try the grape juice, the key is to drink it before you come down with the stomach bug.  If you've already contracted the flu, you won't want to drink that dark purple juice.  If will only make you sicker, and make for a messier clean-up.  Sorry for the gory details. 🙂  From my own experience, cranberry juice also works.
Printable Stomach Bug Supplies Sign
Once you have purchased your supplies, be sure to create a separate area to store them.  You can even print the following sign to hang on your pantry shelf.  By labeling the items, you will be able to find them easily.  It will also make it clear that these items are not for everyday use.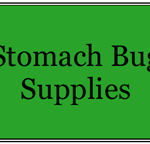 Let's hope that the stomach bug stays away from your household.  If not, at least you'll be prepared!
Need more ideas?  Be sure to read these articles which have more tips, checklists and printables: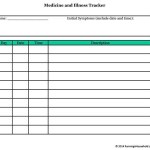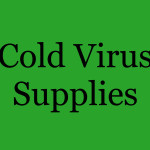 Are you ready for the cold virus season?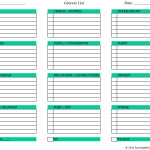 Grocery List by Department – Make Grocery Shopping Easy and Efficient