Are you planning to host Easter dinner?  If so, we are here to help make the process easy.  Below you will find our helpful Easter checklists, menus, timelines and planning tips.  Let's get started.
Easter Menu Planning
As with most events and family gatherings, you will want to do some initial planning.
First, decide on the time of your meal.  Will it be an Easter breakfast, brunch, or dinner?
Next, determine the names of the guests who will attend.
Then, it's time to set the menu.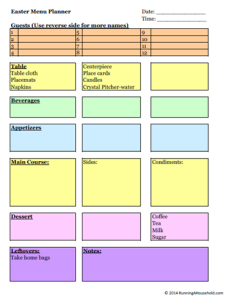 Click on the link below to print our Easter Menu Planner.  Here, you can list the time of the event, names of guests, and food you plan to serve.
Tips for completing the list:
If your guests will bring a dish, that's fine.  Just add it to the menu, and list their name after it.  Example: Cookies – Mom
If you're planning to have leftovers, it's always nice to have a pretty take home bag.
Easter Dinner Cooking Timeline
Since Easter brunch or dinner involves cooking various dishes, you'll want to set up a timeline for the day, so that everything runs smoothly.
1.  First, determine what time you want to eat.
For our example, let's say that dinner will be served at 2:00 p.m.
2.  Next, determine what time your guests should arrive.
For our dinner, we are asking guests to arrive at 1:00 p.m.
Note: We know that some guests will arrive a little earlier, and some will run late.  Therefore, we expect the overall arrive time between 12:45 – 1:15.
Our social hour is planned for 1:00 – 2:00.
3.  Then, fill out the Easter Meal Timeline to determine your cooking times and tasks for the day.
We will serve a pork roast.  It weighs just under 3 pounds, and needs to cook ½ hour per pound.  Once it comes out of the oven, it will sit for 15 minutes prior to carving.  This keeps it nice and juicy.
Be sure to check out:
We've also included a blank page so that you can fill out one for your Easter meal:
Easter Preparations
Now that everyone agrees you are hosting Easter brunch or dinner in your home, there are quite a few things you can do ahead of time to get ready for the event.  Here is an Easter Checklist to help you prepare for the holiday.  At the end of this section, you will find a printable version of our Easter Checklist.
Things to Do: Easter Checklist
Two to three weeks ahead of time:
Invite guests
Plan menu
Buy Easter eggs, candy and baskets
Decorate house with Easter items
Update entrance way with spring flowers (daffodils, hyacinths, or tulips)
Update pictures around house
Schedule hair cuts for family members
The week before Easter:
Monday
Locate Easter tableware: tablecloth, placemats, and napkins
Make place cards
Inspect dishes, plates and glasses for chips or cracks
Tuesday
Fill Easter eggs
Put together Easter baskets with candy and small toys
Make ice cubes
Wednesday
Clean house: Vacuum, mop, clean windows in main rooms
Charge cameras, camcorders, and cell phones
Confirm there is enough memory space on all cameras, camcorders and cell phones
Thursday
Friday
Grocery Shopping
Clean house

Clean bathroom and be sure to:

Fill soap dispenser
Put out new roll of toilet paper
Clean windows in family room, dining room, and entryway
Clean front of oven and dishwasher
Vacuum
Saturday
Bake
Wash table cloth
Set table (dishes, utensils, glassware, napkins, centerpiece)
Bath for kids
Charge cell phone (especially if using to take pictures)
Sunday:  Happy Easter!  Enjoy the day.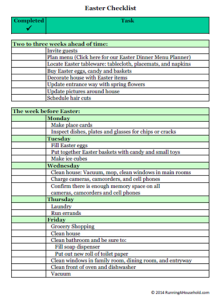 Click here for a printer-friendly version: Easter Checklist
Be sure to checkout our
New EDITABLE Easter Planner

:
Did you know our planner is 
1. Editable: You can download and type your info right on the form.
2. Portable: Use on your cell phone, tablet or computer.
3. Large-print: Easy to read, even on a cell phone
4. Reusable: Save your plans and use year after year.
5. Printable: Print if needed.  Keep your Cooking Timeline handy while cooking.
6. Ink-friendly: Designed to save you ink by using fewer graphics.
Get your Editable Easter Planner today!
Click here to get your Easter planner: Editable Easter Planner
We hope that you and your family have a Happy Easter!
Want to keep your home running smoothly?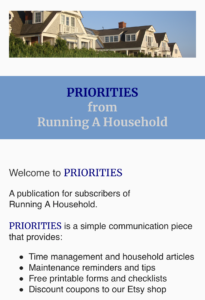 Sign up to receive PRIORITIES, our free weekly publication with:
time management articles
maintenance reminders and tips
free printable forms and checklists
discount coupons
To sign up to receive PRIORITIES, please Click here