Halloween is on the way.  We're here to help with our printable Halloween Checklist.  There's lots to do, so let's get started. 
Costumes
Have kids decide on costumes

Order costumes on-line or buy in store

Have kids try on costumes to confirm they fit

Plan ahead for cold or rainy weather (sweatshirts, thermal shirts, raincoats, vests)

Purchase or pull out Halloween pails for kids to collect candy
Candy
Buy bucket or basket for candy

Buy Halloween candy

Buy plastic snack bags

Schedule date to prepare Halloween bags

Print Halloween sign (if not home that night)
Decorations
Decorate outdoors for trick-or-treaters

Change light bulbs to purple or orange

Buy mums

Go pumpkin picking

Carve pumpkins

Confirm outdoor light bulbs work
Friends
Make plans to go trick-or-treating with friends

Plan supper for friends prior to going trick-or-treating

Set up a schedule for the night
Halloween night
Give kids glow-in-dark items (light, necklace, bracelet)

Bring a reusable shopping bag to hold extra candy

Give kids pumpkins or bags to hold candy

Turn on Halloween music and lights

Put out bucket of Halloween candy

Take pictures of kids in costumes

Have fun trick-or-treating!
The day after
Sort through Halloween candy; confirm all is safe to eat

Fill out an assessment form to help for next year (Use our party assessment below)
Printable Halloween Checklist
Here is a printable Halloween Checklist for you to use.  Just click on the link and print.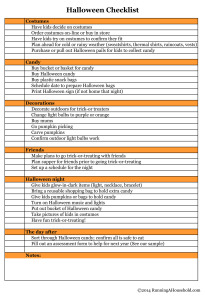 Here are a few additional articles from our website: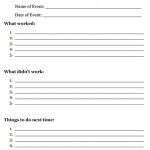 The Party is Over and It's Time to Assess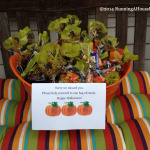 Don't gyp the kids: How to give out Halloween candy when you're not home