Hopefully you've picked up all the branches, and raked your yard.  Next, it's time to put down your step 1 fertilizer.  There are two schools of thought when it comes to fertilizer.
One method is to use straight fertilizer several times during the year.  A lot of landscapers use this method.  If you have weeds, they apply a one-time weed killer in June or July.
Another method is to use the 4-Step Fertilizer Program.  It is designed for homeowners to use, and takes care of fertilizing your lawn and preventing specific weeds.
Disclaimer: Some of the links below are referral links, which means that if you make a purchase, there is no extra cost, but Running A Household will receive a commission.
When to put down step 1 fertilizer
Early Spring is the time to use Step 1 Fertilizer.  In New England, we typically put this down around Tax Day, April 15th.  A general rule of thumb is to put it down before the yellow flowers from the forsythia bushes start to fall off.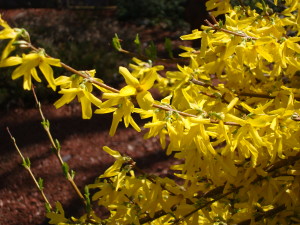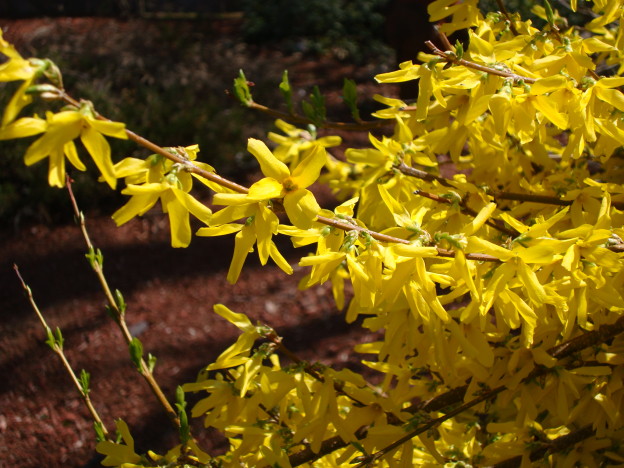 The manufacturer recommends putting this down before your 3rd or 4th mowing.  They also recommend spreading it onto a dry lawn, before the temperatures are in the 80s.  Be sure to read the label before using.
You'll want to thatch, rake and mow your lawn prior to putting this down.  Once the Step 1 fertilizer is down, you should not rake for 4 months.  Otherwise the crabgrass barrier will be broken.
The 4-step lawn program is often discounted when buying all 4 fertilizers at once.
For more details about the 4-step fertilizing program, see:
Scotts Complete 4 Step Lawn Program
Can you use step 1 fertilizer for new lawns?
Don't use this product if you just seeded your lawn.  You'll need to mow new grass at least 4 times before it's safe to use this fertilizer.  This product will also prevent new grass from growing.  So if you need to plant grass seed, you'll want to hold off on using this fertilizer.  Instead, use a fertilizer like this one, designed for new lawns: Scotts Turf Builder Lawn Food – Starter Food for New Grass Plus Weed Preventer
Do you need to water step 1 fertilizer?
Step 1 fertilizer requires water once it is spread.  Plan to put the fertilizer down right before it rains.  Otherwise, you'll need to water it in within 2-3 days.  Need to water with a sprinkler?  We use products similar to these:
Brass Sprinkler Pulsating: We've tried sprinklers with a plastic spike, only to have them break.  Sprinklers with metal spikes are more durable.  Although they cost a little more than the ones with plastic spikes, they last longer.
Oscillating Sprinkler with Width Control: While this may seem like a basic sprinkler, we love the width control feature.  It is especially helpful if you target a specific part of your lawn.  Just adjust the width and the water will spray where you need it.
Nelson Three-Arm Sprinkler
: Sometimes, just a simple rotating sprinkler is the right one for the job.  This type of sprinkler delivers a gentle spray to the lawn, and this style has been around for decades.
How to apply step 1 fertilizer
We found the Scotts broadcast spreader easy to use for this project.  Just set the spreader to the settings listed on the bag of fertilizer.
Scotts Turf Builder EdgeGuard Mini Broadcast Spreader
What to do if you missed the dates for Step 1 fertilizer
Happy landscaping!
Want to keep your home running smoothly?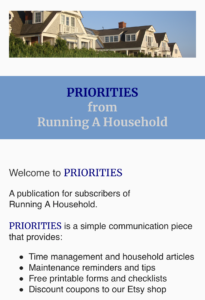 Sign up to receive PRIORITIES, our free weekly publication with:
time management articles
maintenance reminders and tips
free printable forms and checklists
discount coupons
To sign up to receive PRIORITIES, please Click here
Be sure to read these additional articles on our website:
It's Time to Put Down Your Step 2 Fertilizer
Three Lawn Care Tips to Follow