Can you believe that February 22nd marked the five-year anniversary of our website?  We are especially thankful to you, our readers.  Whether you follow us on Facebook, joined our e-mail subscription list, or just stop in from time to time to read our articles, we are so happy to have you.
Running A Household: How can we assist you?
Running A Household is a place where you can get ideas and tools for running a successful home.  Our site offers articles and printable checklists to help you with things around your home.
Need some help today? Just click on the area that interests you most:
Our New Etsy Shop
Be sure to check our new Etsy Shop where we sell Editable Printables.  Our PDFs are designed to be used on your computer, tablet or cell phone, and you always have the option to print the worksheets.  The best part is you can reuse the forms and checklists over and over again.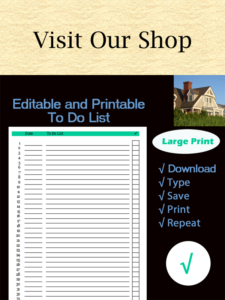 Want to keep your home running smoothly?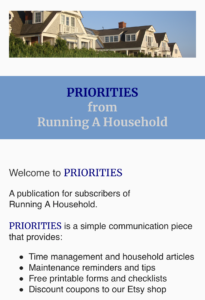 Sign up to receive PRIORITIES, our free weekly publication with:
time management articles
maintenance reminders and tips
free printable forms and checklists
discount coupons
To sign up to receive PRIORITIES, please Click here
We are looking forward to our sixth year, and hope you will continue to join us!