The holidays are behind us, and it's time to get organized. The month of January is a great time to put away all of the Christmas decorations, as well as organize your paperwork. We're here to help with our printable Household Checklist for January and detailed information for the projects you need to tackle this month. So let's get started.
Things to Do in January
Maintenance Inside
Put away Christmas decorations (see separate list)
Assess cleaning schedule; revise as needed
Make updates: medical wallet card and phone numbers
Restock cold and flu supplies
Straighten hat and mitten bin or drawer
Organize papers (mail bin, receipts, filing system, menus, gift cards)
Maintenance Outdoors
Purchase additional ice melt and sand for driveway
Purchase additional gasoline for snow blower
Rake roof after snowfalls
Money
Balance checkbook
Budget
Collect documents to prepare Federal and state taxes
Gather charitable donation receipts and value items
Sign up for electronic billing and statements
Meal Planning
Plan birthdays, parties, and events for February
Prepare for Valentine's Day (cards, gifts, candy)
Need more details on some of these projects? Check out the following articles:
Details on January Projects
Here are some specific details on our January projects. Just click on the link below to read more.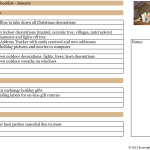 Wrapping Up Christmas: January Checklist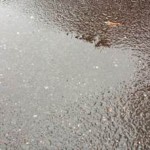 Things to Do During the January Thaw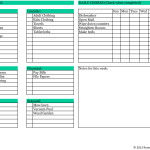 Household Chores – Weekly Checklist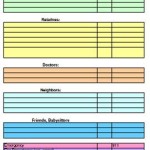 Household Updates to Make in January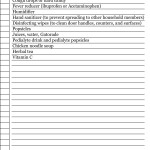 Are you ready for the cold virus season?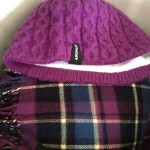 Simple ways to organize winter hats and mittens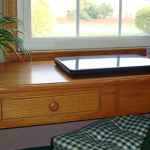 (includes how to organize gift cards, mailing supplies, receipts, coupons and menus)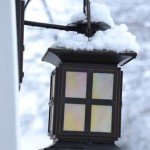 Things to Do After a Snowstorm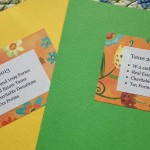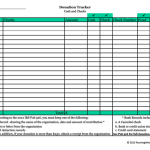 How to Keep Track of Your Charitable Contributions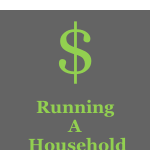 Do You Still Receive Bills and Statements in the Mail? How to Go Paperless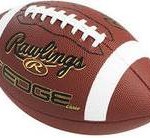 Five Steps to Planning a Football Party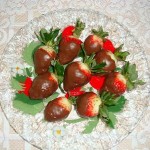 Ideas for Celebrating Valentine's Day
Printable Household Checklist for January
Just click on the link below for a printable copy of our Household Checklist for January: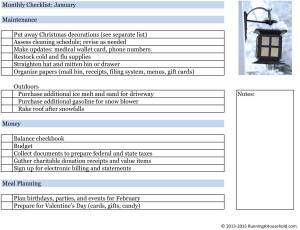 Household Checklist for January
By scheduling time to handle these items in January, you'll be sure to keep everything running smoothly in your household.
Next steps:
Need more ideas? Check out our Toolbox tab above.
Be sure to sign up with your email address so you can receive more helpful hints about Running A Household.