Is your pool cover full of leaves?  Are the leaves wet or dry?  Either way, we have some helpful tips and tools on how to remove leaves from your pool cover.
Disclaimer: Some of the links below are referral links, which means that if you make a purchase, there is no extra cost, but Running A Household will receive a commission.
Dry Leaves
If your pool cover is full of dry leaves that just fell from the trees, try removing them with a leaf blower. The process is simple, but you'll need to clean up the leaves once they are off your cover.  Otherwise, you'll find them right back on the pool cover. You can use a blower like this one: Black & Decker High Performance Blower
 which is also helpful around the yard when you need to blow or mulch your leaves.
Wet Leaves
More than likely, you're dealing wet leaves on your pool cover.  It's difficult to keep all of the dry leaves off the cover, and before you know it the rains comes.
We use a leaf rake, which is a larger version of a pool net, similar to this one:
POOLWHALE Professional Cleaning Net 

Just attach the leaf net to a standard pool pole and start scooping out the wet leaves.  You can make a pile on the ground and let them dry out.  Another option is to put them in a large plastic trash barrel. Just make sure it's an old one with a few holes at the bottom.  The holes will let the water drain out and make the barrel lighter to carry.
Draining the Water from Pool Cover
Once the leaves are off of your cover, you'll want to drain the water.  One of the easiest ways to drain water from your pool cover is with a small pump.  The one we use is called a Little Giant Submersible Pump
and it was made especially for draining water from pool covers.
We love the Little Giant.  It seems to have enough horsepower to get the job done.
We've tried other pumps, but this one seems the quickest.
Just attach it to a hose, and plug it in.  Be sure that the hose is attached.  If not, the hose could pop off underwater and slow or stop the draining process.
If there's just a little water, you can let it drain on the grass.  If there's a lot of water, you may want the hose to drain in the driveway.
You can use a regular garden hose. We prefer to use non-kink hoses like this one:
Remove Leaves from Pool Cover with a Leaf Net
Aside from cutting the leaf-producing trees down, there is a product designed especially for leaves on a pool cover.  It is a called a leaf cover, and it is a large net that sits right on top of your pool cover to catch all of the leaves.  Once the leaves are done falling, remove the net, along with all of the leaves.  We haven't tried it, but it looks like a great idea, and it comes in most above-ground and in-ground pool sizes.  For more details:
You may also enjoy the following articles on our website:
It's Time to Clean Out Your Gutters
Do it yourself: How to clean up fall leaves
Silver Maple Trees: It's a Love-Hate Relationship
Want to keep your home running smoothly?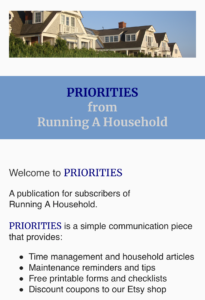 Sign up to receive PRIORITIES, our free weekly publication with:
time management articles
maintenance reminders and tips
free printable forms and checklists
discount coupons
To sign up to receive PRIORITIES, please Click here