How was your growing season?  Was it successful?  Do you wish you could have done something differently?  We're here to help with our printable Garden Assessment Form.
Printable Garden Assessment Form
Now that the growing season is over, take a few minutes to assess the success of your garden.  Use our printable Garden Assessment Form to analyze and review your garden, so that next year turns out even better. Just click on the link below to print our garden assessment form: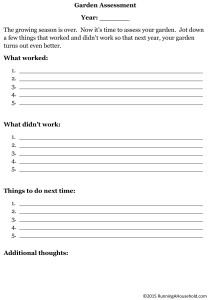 Assessing your garden
Be sure to think about all of the things that worked well this year:
Size of garden
Garden layout and paths
Types of plants: Vegetables and flowers
Here are some questions to ask yourself:
Was your garden too small, to big, or just the right size?
Would you like to change the layout of your garden?
Which plants grew the best?
Which vegetables and flowers did you enjoy most?
Did you have too many of one type of plant, or not enough of another?
Now it's time to fill out the Garden Assessment Form.
What worked well during this growing season?
Start by thinking about the successful part of your garden.  Think about:
What worked really well?
Are there things you would keep the same?
Jot down your top items that made your garden a success.  These are the items you will want to repeat again next year.  There were several things that went well for us:
Giant Zinnias: These are one of our favorite flowers to grow.  This year they were colorful and plentiful. We opted to grow red, orange and yellow colors. This was perfect for a summer vase, as well as fall.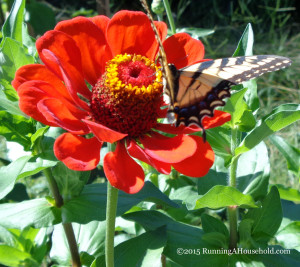 Cherry Tomatoes:  Two plants were plenty for our family. There were enough to share with our friends, too. We trimmed the tops of the plants early in the season, which allowed the plants to fill out and grow strong.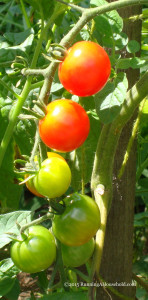 Basil:  This year we planted 8 basil plants. We kept the basil trimmed, and there was plenty all season. It was wonderful to have fresh-cut basil available for our summer dinner meals.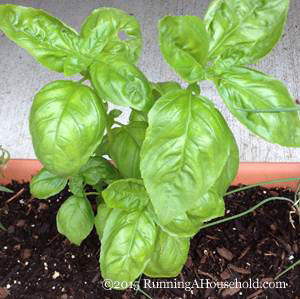 Marigolds: Yellow and orange marigolds are a tradition in our garden because they seem to keep the bunnies away. We prefer the flat-petal variety, called Durango Marigolds, which are a little different that the standard marigolds.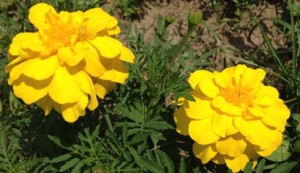 Sunflowers: We love sunflowers. The 36" low height works best in our garden. Our neighbor loves sunflowers so we planted them on the edge where she can see them, too. Planting 10-12 from seed worked best.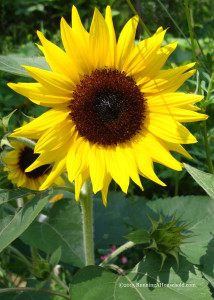 Lettuce: Our lettuce grew very well this year. We bought 2 six-packs of lettuce from our local garden center, which proved to be easier than growing it from seed.
Herb Container: In addition to growing basil in the garden, we opted to plant basil, rosemary and chives in a container. We snipped herbs from our container throughout the season.  Once the first frost arrived, we brought the container indoors and continued to have a fresh supply of herbs.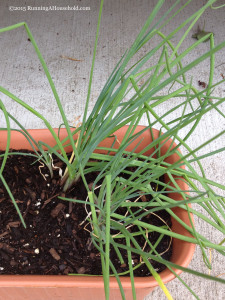 Geraniums in window boxes: Although we prefer to have a variety of plants in our window boxes, we tend to regret this decision when the heat arrives in July. This year we opted for simple geraniums, which lasted from May to October. They were very forgiving when we didn't water them, and are the perfect plant for a window box if you plan to be on vacation for a week or two and cannot water them.  Geraniums come in many colors: Hot pink, light pink, red, salmon, white, and light purple.  Red ones look great from Memorial Day right into early fall.  Pictured below are our hot pink geraniums: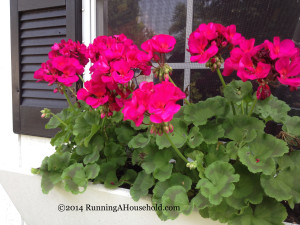 What didn't work in your garden this year?
Next, it's time to think about things that just didn't work:
Did you have enough plants?
Were certain crops a bust this year?
Do you wish you had more flowers or vegetables?
Were there too many weeds?
Write down the things that went wrong, so that next year you can make some changes.  Here's what we need to fix for next year:
Peppers: We had too many pepper plants: 24 to be exact.  There were 4 varieties, with 6 plants of each variety.  For some reason, none of our pepper plants grew very well this year.  Next year, we're planning to grow just 6 jalapeno pepper plants.
Acorn squash: This was our first time growing acorn squash. We were pleased to have three squash, but they were very small and took up a lot of garden space. We will omit acorn squash next year.
Cucumbers: We were pleased that our cucumbers were grown from seed. Initially, the plants looked great, but a week of non-stop rain washed out our crop this year. Next year, we will consider using lattice for the cucumbers to climb, and mound the plants again when planting.
Potatoes: This was another first-time crop for us. Potatoes require less water than other plants.  It was difficult not to water the potatoes since they were in our main garden. We will try growing potatoes again next year, but in a container.  That way, it's easier to trim the tops during the season, and we can have more control over the water supply.
.
Things to do next time
Lastly, write down a few things you want to do next year.  By documenting your thoughts now, it will make it much easier for next year.  Here are the changes we will make:
Grow more extra-large flowers: Consider giant spider chyrsanthemums or 18 large zinnia plants instead of 8.
Grow more cut flowers: Research flower types over the winter. Look for cut flowers that would look good on a dining room table.
Continue growing zucchini: Limit to 3-4 zucchini plants, and remember to plant in full sun.
Rotate garden crops: Research efficient planting methods; Change location of cherry tomato plants
Shop for blueberry bush netting: Our one blueberry bush is quite large.  The netting no longer fits over the entire bush.  Shop early for white cheese cloth netting.
Buy citronella plants: These plants keep mosquitoes away.  Consider having one in the garden, another one on the patio, and a third one on the deck.  Instead of spraying bug spray on skin, simply cut a piece of the plant, and brush it on your clothes.  It smells like citronella candles, and is a more natural way to repel mosquitos.
By taking a few notes now, you'll have time to plan over the winter. In addition, your garden will be even better next year. Happy gardening!
Additional articles you may enjoy from our website: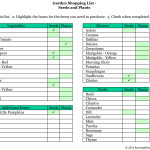 Garden Shopping Checklist: Track your seed and plant purchases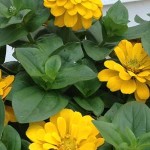 First Frost Warning: What it means for you and your outdoor plants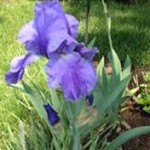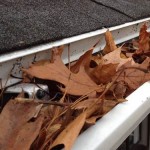 It's Time to Clean Out Your Gutters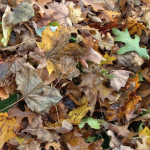 Do it yourself: How to clean up fall leaves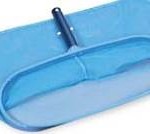 How to Remove Leaves from Pool Cover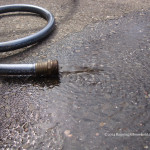 Tips on How to Drain Water from a Pool Cover
Need more gardening guidance?  Check out our monthly gardening calendars: What's Blooming
Be sure to follow us on Pinterest:  Click here