Easter is right around the corner, and we're here to help with ideas and a free printable budget. Let's take a look at how you can fill your own Easter basket for under $15.
Select an Easter Basket or Pail and Some Easter Grass
At Running A Household, we opted for a simple Easter pail which sells for $1. You can find this at your local Walmart or dollar store.
You'll also want to pick up some grass to line the basket or pail.  In addition to the standard green grass, you'll find that the grass comes in many different colors.  We've seen the following festive grass colors: peach, yellow, purple and even aqua blue.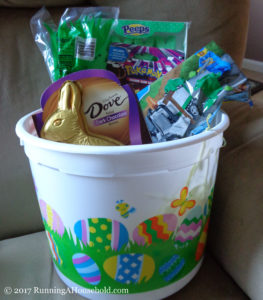 Select Easter Candy
Here are some ideas for selecting Easter candy:
Chocolate Easter Bunny
Peeps
Cotton Candy
A chocolate Easter Bunny is a must have for all Easter baskets. Peeps are a great addition to the basket.  They come in large packages, and are relatively inexpensive.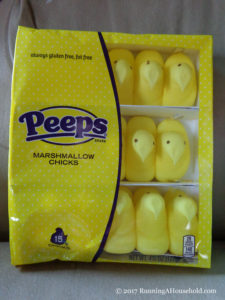 Cotton candy is another one of those special treats that are cheap, but fill the Easter basket nicely.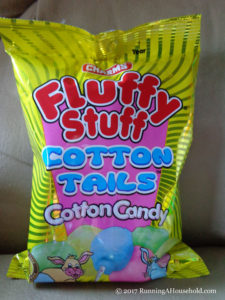 Consider adding a few toys to your Easter basket
Toys and small gifts for an Easter basket vary according to the child's age. For younger children, a coloring book and some washable markers are great.  For our basket, we added a package of Pokemon cards and a mini-Lego toy.  Other indoor toys might include Silly Putty, Play-doh, and an Easter book.  Since Easter is in the spring, bubbles, sidewalk chalk, and a kite are also possibilities.
Fill Your Own Easter Basket for Under $15
Before heading out to the store, have a simple budget in mind.  This will help you stay on track and within your budget.  Here's a breakdown of the cost to make our Easter basket:
$1.00 – Easter Basket or Pail
$1.00 – Grass
$3.00 – Chocolate Easter Bunny
$1.50 – Peeps
$1.00 – Cotton Candy
$7.50 – Toys
$15 – Total Cost for East Basket
Easter Basket Printable Budget
Before you head out to go shopping, be sure to print our Easter Basket Budget.  It will help you plan what you need and stay on budget.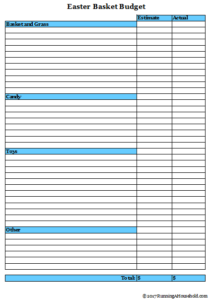 Good luck making your own Easter basket. Happy Easter!
P.S. If you are hosting Easter this year, be sure to check out our popular article: