Do you have a closet without doors?  Perhaps you need a simple way to close off an area.  Check out these ideas which involve curtains, drapes, or shower curtains.
Using Curtains as a Closet Door
Closet space is always in demand, especially in smaller homes.
Issue: The main closet for this bungalow is at the top of the stairs.  It didn't have closet doors, but desperately needed closing off.  Doors were not an option.
Solution:  Since it was such a small area, we opted to hang a long curtain rod and attach some simple curtains.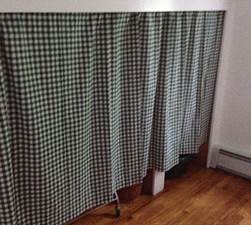 There are several hooks on the inside of the closet to hold up the curtain rod.  For our purposes, a wide curtain with one slit in the middle did the job.  The curtains hang directly on the rod.  When we need something from the closet, we simply pull back the curtain.
Another option is to hang the curtains on hooks with clips.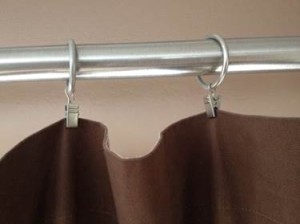 It is easy to slide the curtains back and forth when they are on hooks.
Using Curtains in Handicapped Accessible Area Under Sink
The curtain rod and fabric curtain idea also works in kitchens.
Issue: We have a friend who moved into a handicapped accessible apartment.  She is elderly, but does not use a wheelchair yet.  Her kitchen is handicapped accessible, and there is a large open space under her kitchen counter.
Solution: Since she isn't in a wheelchair, she opted to use a tension rod.  Then she added hooks with clips to hang her plad curtains.  This is a great solution, since it is temporary, and doesn't change the handicapped accessibility of her kitchen.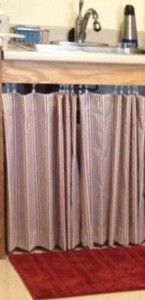 Using a Shower Curtain to Hide Sump Pump
Plumbing pipes are not very appealing to the eye.  However, it's important to have easy access to them.
Issue: A sump pump and plumbing pipes were visible in the finished laundry room.  We still needed easy access to this area, but didn't want to look at it every day.
Solution: We used an adjustable shower curtain rod.  Since it was a tension rod, we could adjust it to fit the exact space without drilling or making holes.  Then we hung a pretty fabric shower curtain that we used years ago in our main bathroom.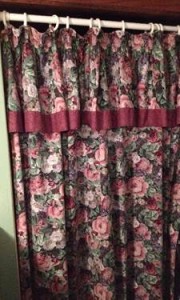 Now we don't need to look at the sump pump area, but can access it easily when needed.
Using Curtains under a Staircase
The area under a staircase can offer some storage space, especially in closet-poor houses.  Access to this area can be tricky.  In this picture, a simple white curtain hung on a dowel stick hides the storage area.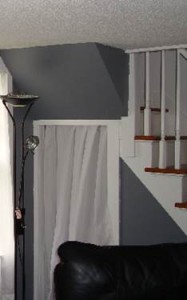 It also makes for easy access into the storage space under the stairs, where a door just wasn't feasible.
Do you need a few more ideas for organizing your space?  Check out these articles:
Ideas for Organizing Ball Caps
Small spaces: Narrow Staircase Challenge for Mattress
How to Organize the Shoes in Your Entryway