Do you have a small dining room?  If so, we have some solutions.
Option 1:  5-Piece Dining Room Set
When working with small rooms, it's best to keep things simple.  In the case of a small dining room, the ideal solution would be a 5-piece set: a small round table and four chairs. Since the 5-piece set doesn't accommodate any guests, we opted for something a little larger.
Option 2: Drop-Side Table
We found this antique dining room table at a second-hand store. It's a drop-side table, made out of solid maple.  In the picture below, you can see the left-side of the table is folded down.  The right side folds down as well, so you can have a long narrow table.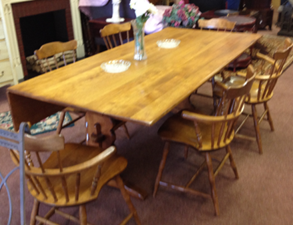 You just can't find dining room sets like this anymore. It was on display with six chairs, but when we went to pick it up, the owner of the store told us that she found two captains chairs in the back of the store that go with the set. So, we have a table and eight chairs for less than the price of a brand new 5-piece dining room set.  I love a good deal.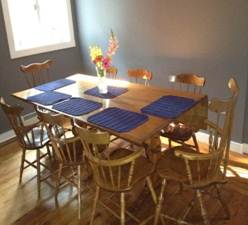 Since there is a window in the room, we did not add any extra furniture.  Our dishes and glassware fit in the kitchen.  It's a good thing, since a hutch would have crowded this small dining room.
The drop-side table turned out to be the perfect choice.  It was practical and flexible.  We keep one side of the table down when it's just our immediate family.  When guests arrive, we can put up the leaf and use the full table.
Are you dealing with a small house?  You may find the following article helpful: How to Organize the Shoes in Your Entryway