Could you use a blank printable monthly calendar?   Look no further.  Below you'll find a printable calendar, along with some ideas for putting it to good use.
Uses for Blank Monthly Calendar
There are so many projects and events you can organize with a blank monthly calendar.  Consider using it for:
Lunch or dinner planning
Children's after-school, evening and weekend activities
Family activities
Medical and dental appointments
Bill paying
Project management
Household chores
Event planning for a special day
Blank Monthly Calendar
Here is a blank monthly calendar.  Just click and print:
Happy Planning!
Could you use a few more time management tips?  Check out these articles with more charts and checklists to print:
Tool Box: Time Management Schedule
Setting Goals You Can Easily Accomplish
Time Management: Setting Priorities
Want to keep your home running smoothly?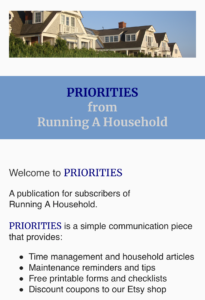 Sign up to receive PRIORITIES, our free weekly publication with:
time management articles
maintenance reminders and tips
free printable forms and checklists
discount coupons
To sign up to receive PRIORITIES, please Click here