Put away those pumpkins and pilgrims.  It's time to decorate for Christmas.  Not sure where to start?  Follow these tips and suggestions to get your house decorated in no time.
Where to start decorating for Christmas
Sometimes just the thought of decorating for Christmas can be overwhelming.  There are so many boxes and bins to take out.
Consider decorating one area or room at a time.  Our recommendation: Start by decorating your entrance way or front door.  Every time you walk by, you'll want to continue decorating the rest of the house.
Outdoors: Christmas decorations for your front door
Start by replacing your door mat with one that is more festive for the holidays.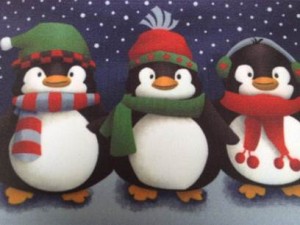 Add a winter "Welcome" sign to replace the one that hung in the fall.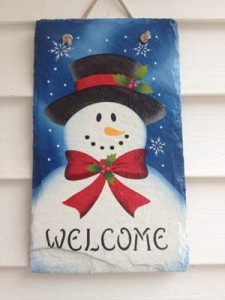 Simple things like removing your fall bench cushions, and setting up a small pre-lit tree are easy ways to decorate for the holidays.
Add an antique sled and a pair of ice skates, and your entrance way will be decorated in no time.
Indoors: Christmas decorations for your entry way
If you have young children, or are feeling young at heart, add a few gel clings to your windows.  They come in various designs and sparkle when the sun shines.  It's a sure way to brighten up your day.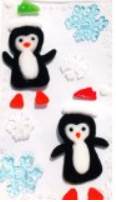 Do you have a ceramic tree?  If so, you'll want to put it in a safe, but centrally located place.  We chose to put our tree on a small table in our entrance way.  We see it when we walk by, and it's visible from outside.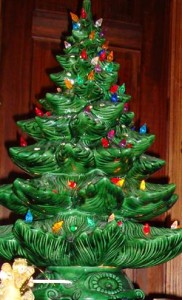 Instead of a ceramic tree, consider placing a large Santa or nutcracker as the focal point.  An extra-large snowman will also work.
By decorating one area at a time, you'll feel successful in completing one section.  It will also motivate you to continue with the rest of your home.  Stay tuned: we are going to decorate the dining room next. 🙂
Happy Decorating!
Do you need more holiday tips?  You may enjoy the following articles:
Preparing for the holidays – November Checklist
Tips for Shopping and Tracking Your Holiday Purchases