Did you ever forget your password?  Do you have too many passwords to keep track of?  Here are some ideas on how to organize your passwords.
There are two schools of thought when it comes to passwords.  Originally, we were taught never to write down a password.  However, in this day in age where you need a password for almost every account, it would be impossible not to write it down.  So what are the alternatives?
There are a few password programs you can purchase to keep track of your information.

You can use an address book to keep track of your passwords.

We've set up a basic Password Chart to track your passwords.
The Password Chart is very generic, so that it can be used in several ways.
Do you have fewer than 20 passwords?  Print one copy of the Password Chart, and keep everything on one page.

Can you group your passwords into categories?  If so, then print one copy of the Password Chart for each category.  For example:




Stores: list all accounts: i.e. Macy's, Target, Old Navy etc.

Financial: include credit cards, checking, 401k, mutual funds

Health: insurance, prescriptions, doctors

General computer: pc/laptop, e-mail, Facebook, Twitter
Too many passwords to figure out a system?  Then opt for alphabetical.  Print a Password Chart for each letter of the alphabet or group two letters together (A-B, C-D, E-F) and list your accounts alphabetically.
Safety: The chart provides a column for the name of the website, your username, password, and notes.  If you want to keep special accounts extra safe, just enter a code or a hint in the password column, instead of the actual password.  The hint might be: name of elementary school, first child, etc.
Once you complete your Password Chart, be sure to keep it someplace safe. 
We do not recommend putting this on your computer.  This is meant to be a paper and pencil project.

Do not store it right next to your computer.
Someone recommended putting a copy with your will, which is usually kept in a safe or safe deposit box.
Whatever you decide, just be sure to safeguard your information.
Want to keep your home running smoothly?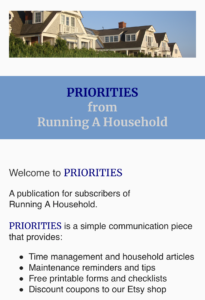 Sign up to receive PRIORITIES, our free weekly publication with:
time management articles
maintenance reminders and tips
free printable forms and checklists
discount coupons
To sign up to receive PRIORITIES, please Click here