The key to making all of the lists work is our Time Management Schedule.  It is a simple chart where you can plan what you are doing each day from 6 a.m. until 11 p.m.  The time slots are in half hour blocks, but you can certainly combine the blocks to accommodate longer time slots.  There are three printables to select from:
Schedule – Daily (One page per day; 6 am – 11 pm)
Schedule – Weekday (Monday – Friday; 6 am – 11 pm)
Schedule – Weekend (Saturday and Sunday; 6 am – 11 pm)
When completing the schedule, ask yourself the following questions:
What is a typical day for me?
Do I tend to do things at a certain time each day?
When am I most productive?
Next, block off time for: daily chores, weekly chores, and monthly chores.
Don't forget to schedule special projects like: spring cleaning, birthday party planning, and doing your taxes.
By using the Time Management Schedule, you'll be sure to get all of the things done in your household.
Want to keep your home running smoothly?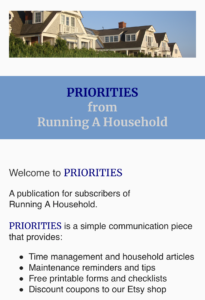 Sign up to receive PRIORITIES, our free weekly publication with:
time management articles
maintenance reminders and tips
free printable forms and checklists
discount coupons
To sign up to receive PRIORITIES, please Click here