The holiday season will be here before you know it.  Would you like to enjoy the season a little more this year?  Consider getting a head start by doing some things during the month of October.  We've put together a checklist of items you can do ahead of time.
Things to Do Ahead of Time
Update holiday card addresses; determine number of cards to send
Select holiday  cards
Print labels for cards
Take (or schedule a date to take) pictures for holiday card
Start a Christmas List for gifts to buy for family and friends
Set a budget
Take inventory for wrapping paper, bows and bags
Clear a shelf or area to store gifts purchased
Work on fall cleaning to avoid major cleaning right before Thanksgiving
Things to Buy
Shop for holiday outfits for children – buy early for selection
Order return address labels
Order holiday cards
Dates to Schedule in Your Calendar
Get tree
Decorate tree
Holiday party
Holiday activities: Santa Express Train; Picture taken with Santa
These are just a few things you can do ahead of time, to make your holiday season more enjoyable.
Be sure to print our October Checklist so that you stay organized.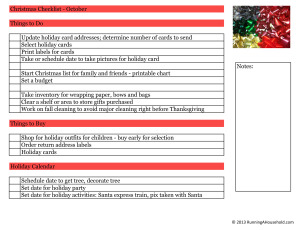 Christmas Checklists – October
Here are a few additional articles you may enjoy:
How to Declutter Your Home – Once and For All
Simple ways to organize gift wrap paper and bows
Toolbox: Printable Address List Tracker
Need a few more Christmas ideas, organizational tips, or printables?  Click here to check out our special tab dedicated just for Christmas.