Make this summer an enjoyable one.  To ensure that you fit everything in, use our printable Summer Priorities Chart as a road map to plan your summer activities.
Activities to Do
Whether it's a summer concert in your town, or a new movie with your favorite actor, just jot it down on the list.  Other activities may include:
Visit local library or museum
Take tennis lessons
Spend the day at the beach
Go outlet shopping
Friends to See
Have you been meaning to get together with a few friends?  Write their names down on the list and then schedule a date to get together.  Here are a few ideas for activities:
Go out to dinner
Attend a concert
Host a cookout
Plan a play date for the kids
See a baseball game
Vacations to Take
Whether it's a week at the beach, or a weekend trip to just get away, be sure to list the vacations you'd like to take.  This way, you'll certainly enjoy the summer, and feel refreshed in time for fall.
Things to Do
Are there a few things that you've been meaning to take care of?  Summer can be a great time to accomplish things, especially with nice weather and longer days.  Here are a few ideas:
Hold a tag sale
Clean out the garage
Build a shed
Paint Adirondack chairs
Printable Summer Priorities Chart
Just click  on the link below to print your copy of the Summer Priorities Chart.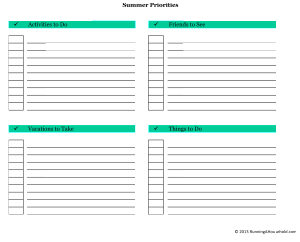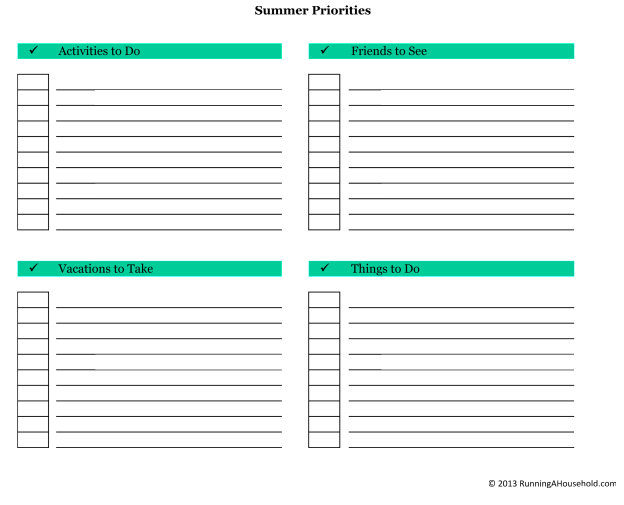 Happy Summer!
Here are a few other articles you may enjoy:
Tool Box: Time Management Schedule