Planning your summer calendar can seem like a big challenge, especially if you have several people in your family. In a day and age when there are so many software programs and apps to stay organized, planning your entire summer electronically may pose a challenge. When it comes to planning the months of June, July and August, it's back to basics here at Running A Household. Check out our simple, yet practical method to organize and plan your summer calendar.
Time Management: Setting Summer Priorities
First, gather your thoughts on what you want to do this summer. We've made this easy for you, with our printable Summer Priorities Chart. Break down your ideas into four categories:
Activities to Do (Baseball games, Sports Camp)
Vacations to Take
Friends to See (Pick 3-4 and schedule dinner or an activity)
Things to Do (Plant a blueberry bush, organize garage, stain the deck)
Click on the chart below to print your copy: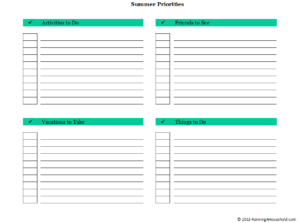 For further details on using our Summer Priorities Chart, be sure to read our article:
Time Management: Setting Summer Priorities
Starting to Organize and Plan Your Summer Calendar
Next, it's time to organize and schedule your summer calendar. Start by printing a blank calendar for the months of June, July and August. Just click on the calendar below to print.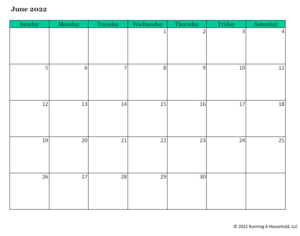 Blank Monthly Calendar June 2022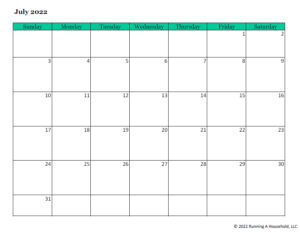 Blank Monthly Calendar July 2022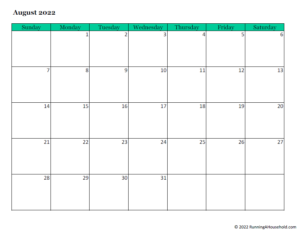 Blank Monthly Calendar August 2022
Once your blank calendars are printed, it's time to start scheduling your summer days. You'll want to grab a pencil to enter the following information:
1. Mark down your vacation days.
2. Block off any commitments already made. This may include:
Weddings
Sports camps
Long weekends
Birthdays
3. Use your Summer Priorities Chart to fill in the rest.
When your summer calendar is complete, you can post it in a central location for the family to use. Or, if you prefer to have your calendar electronically, just enter the information into your regular electronic calendar system.
Happy planning!
You may also want to read the following articles: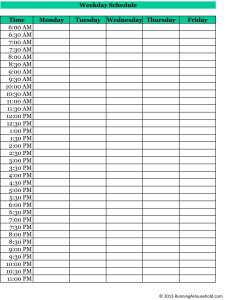 Tool Box: Time Management Schedule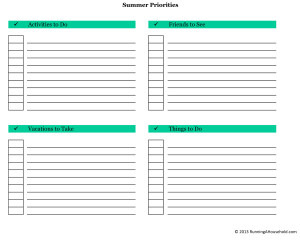 Time Management: Setting Summer Priorities